You're invited to view this page as an early preview of my 2017 Fall mini session calendar. I am really looking forward to photographing your families this fall and catch up with you guys.
Mini sessions this year will be limited, I'm afraid to say, with not nearly the same number of available appointments as in the past. So, if you're interested, email me quickly to be assured a spot.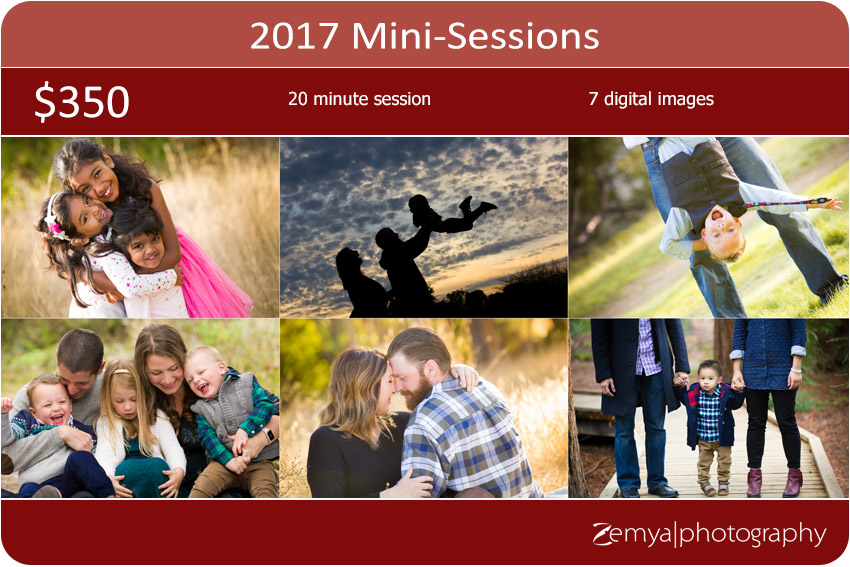 Dates, Times & Locations
9/23: BOOKED – Foster City: The Shells (dogs OK)
9/23: BOOKED – Menlo Park: Bayfront Bedwell Park (dogs OK)
10/21: BOOKED – San Mateo: Borel Park (dogs OK)
10/21: BOOKED – San Bruno: San Bruno Mountain State Park (no pets!)
11/11: BOOKED – Los Altos: Redwood Grove Nature Preserve (dogs OK)
What are mini-sessions?
Mini-sessions are a great way to capture your family in portraits. You can use them for your family albums, updating your walls, and many families choose to use the images from these events for their holiday greeting cards. Similar to regular sessions, you will receive a personal use release, and the ability to print from any lab you like. Of course, you are welcome to print through my fantastic lab, but you have options. They differ from regular sessions, because mini appointments only last 20 minutes — this is great for young children, or those of you with constrained schedules, or some of you looking for a more affordable alternative. See examples of my past mini sessions.
How many family members can I bring?
As mini-sessions are relatively short, it's best to keep to just your immediate family. However if a special adult relative is in town are you really would like to include them in 1-2 photos, let me know: we'll see what we can do
How quickly will I receive my photos?
Your should have the photos from our mini-session events within 2-3 weeks of our session. They will be available for download via an online gallery.
Can I bring my pet?
Fur-kids are welcome as long as they are comfortable outdoors, and being leashed! Unfortunately, some of the locations for our mini-sessions do not permit pets, so please check that the date/location you're interested in allows for them.
Can you provide holiday cards?
I am partnered with Minted.com and invite you to use their incredible library of templates for your holiday cards. I'll be sure to let you know of any coupon codes they release.
How much?
As always, all session costs are listed on my pricing page!