You're invited to view this page as an early preview of my 2018 Fall mini session calendar. I am really looking forward to photographing your families this fall and catch up with you guys.
Please read the following information carefully. This year you can reserve your mini session directly online. However, there are only three event days, so please book fast 🙂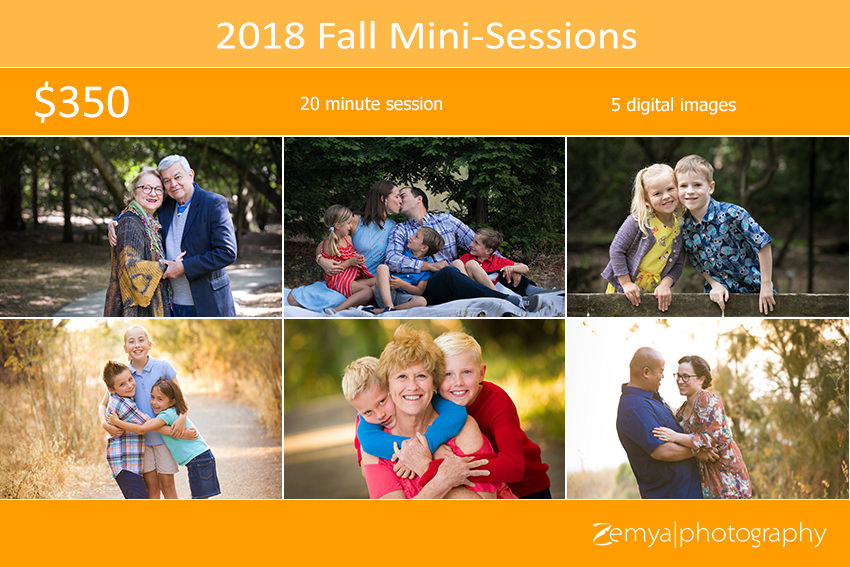 What are mini-sessions?
Mini-sessions are a great way to capture your family in portraits. You can use them for your family albums, updating your walls, and many families choose to use the images from these events for their holiday greeting cards. Similar to regular sessions, you will receive a personal use release, and the ability to print from any lab you like. Of course, you are welcome to print through my fantastic lab, but you have options. They differ from regular sessions, because mini appointments only last 20 minutes — this is great for young children, or those of you with constrained schedules, or some of you looking for a more affordable alternative. See examples of my past mini sessions.
How many family members can I bring?
As mini-sessions are relatively short, it's best to keep to just your immediate family. However if a special adult relative is in town are you really would like to include them in 1-2 photos, let me know: I'll see if it's possible to accomodate them
Dates, Times & Locations
9/16 – 5:00-6:30pm – San Mateo: Laurelwood Park – BOOKED
10/27 – 4:00-5:30pm – Palo Alto: Sandhill Rd & Clark Way – BOOKED
11/11 – 3:00-4:30pm – Belmont: Twin Pines Park – BOOKED
How do I book?
This year, to ease back-and-forth on availability, I'm using Square Appointments. To book your session please follow these steps:
Go to https://squareup.com/appointments/book/FSRGNJ8EBM3QZ/zemya-photography to select an available appointment.
Once you make a reservation I will follow up with you to finalize your booking.
Please note that if you don't see any available slots, they have all been booked. Feel free to reach out to schedule a full session.
Can I bring my dog?
Fur-kids are welcome as long as they are comfortable outdoors, and being leashed! This year all locations allow for dogs 🙂
How quickly will I receive my photos?
Your should have the photos from our mini-session events within 2-3 weeks of our session. They will be available for download via an online gallery.
Can you provide holiday cards?
I am partnered with Minted.com and invite you to use their incredible library of templates for your holiday cards. I'll be sure to let you know of any coupon codes they release.
How much?
Mini Sessions cost is $350/session and includes:
– A private session for up to 5 people.
– 5 developed, full resolution digital files, delivered via an online gallery. Additional images available for purchase at $15/image.