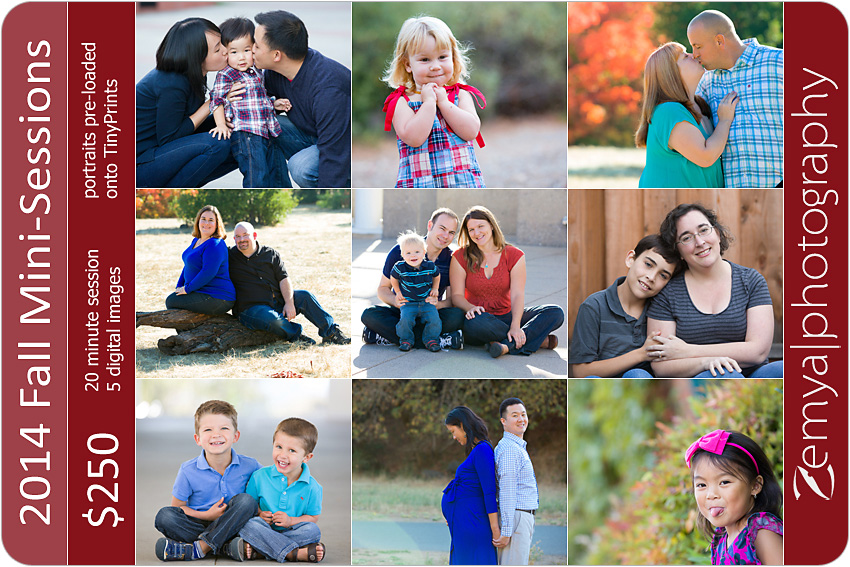 They're here!!!!
I am now accepting bookings for mini sessions this 2014 fall.
If you're interested in reserving a portrait session for your family, read on here for full details on how to reserve, available session dates, times and locations.
***
What are mini-sessions?
Mini-sessions are a great way to capture your family in portraits. You can use them for your family albums, updating your walls, and many families choose to use the images from these events for their holiday greeting cards. Similar to regular sessions, you will receive a personal use release, and the ability to print from any lab you like. Of course, you are welcome to print through my fantastic lab, but you have options. They differ from regular sessions, because mini appointments only last 20 minutes — this is great for young children, or those of you with constrained schedules, or some of you looking for a more affordable alternative. See examples of my past mini sessions.
How many family members can I bring?
As mini-sessions are relatively short, it's best to keep groups to 5 or less.
How quickly will I receive my photos?
Your should have the photos from our mini-session events within 2-3 weeks of our session. They will be available for download via an online gallery.
Can I bring my pet?
Fur-kids are welcome as long as they are comfortable outdoors, and being leashed! Unfortunately, some of the locations for our mini-sessions do not permit pets, so please note the pet permissibility in the locations above.
Can you provide holiday cards?
Absolutely! I partner with TinyPrints.com to offer you an incredible array of card options for you to use as announcements, invitations and holiday greetings. All clients that book a mini-session will have their selected images from our session uploaded to a private TinyPrints gallery, complimentary. My upload to TinyPrints on your behalf is my Thanx to you for booking with me this season.
How much?
As always, all session costs are listed on my pricing page!
About Zemya Photography
Zemya Photography is a professional Bay Area photographer, based on the Peninsula, and specializes in couples, maternity, family, newborn, baby, and children's on-location, natural light, lifestyle portrait photography. Book your session today