Newborn photos are great! I love photographing a fresh infant in their first few weeks of life. There's all the new-found love from parents, and the marvel at how tiny this new person is. But you know what's even more fun? Baby photos!!! Yep — I'm talking 6-9 months of pure baby giggles. It's when Mom & Dad gets their feet back from under them; those sleeplessness nights have either improved, or parents have resolved to the reality and now time is just fun. Babies are smiling (for more reasons than gas!), vocalizing, blowing raspberry 'cuz it's awesome, sitting up and playing with their feet. How is this not awesome?
It's also I would never turn away a session in this age group… especially if we can do it at home, so your kid can roll around in their diaper and show off their flexibility to me.
When E reached out to me earlier in the year and we got into planning their family photography session, I was progressively getting more and more excited! Again — fun kiddo age group, at home. Perfect combo!
Doing photos at home can be a little tricky, though. While I wish every home had floor to ceiling windows with amazing natural light, that's just not how the world works. Homes, like families, come in all shapes and sizes: some not with the best windows. Makes for great sleeping arrangements, but not necessarily photo opportunities [speaking of which, if you're an architect — let's talk about my wish-list ;p]. Even IF you have a great window set-up, a dark, cloudy day can spoil up the arrangement too. It's why I bring a small video light with me (with extra batteries) to bring more brightness into our space and we can have more flexibility in where we shoot. My favorite spots? Your bedroom, nursery and living room. It's where you cuddle and spend most of your time together, and it's what I want to capture for you. It's where you can show me your favorite book, and best kid rocking position. You can show off your mad baby-changing skills. Your life: your pictures 🙂
Little K can't quite sit-up on her own fully comfortably yet. But you know what? We faked it! I put her on the coffee table in the living room, and asked mom to duck behind with her hands over her hips, providing extra balance. All while K's dress was over mom's hands. Can't tell, can ya'? Yeah, bonus points for my ingenuity over here, and yet another reason how family photos at home allow us to do things we simply can't outdoors.
Now enjoy little K's baby photos! Don't skimp — her expression at the end can't be missed!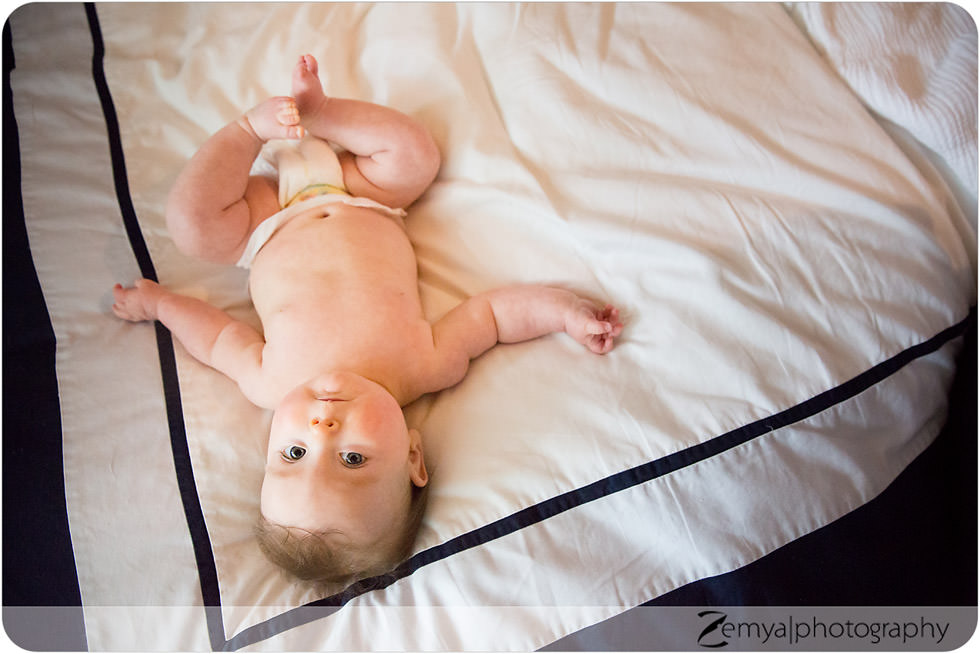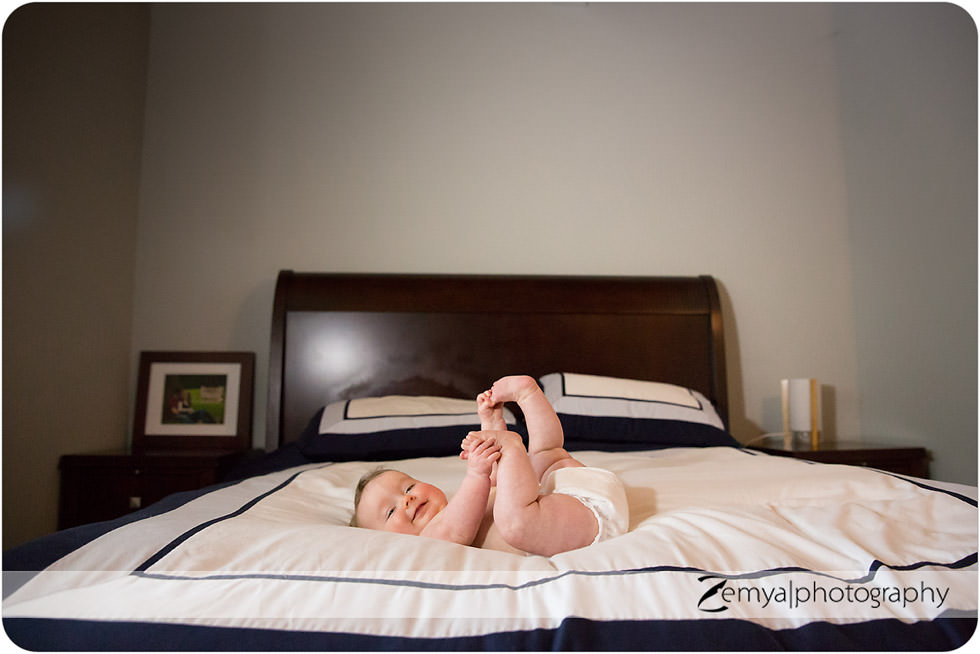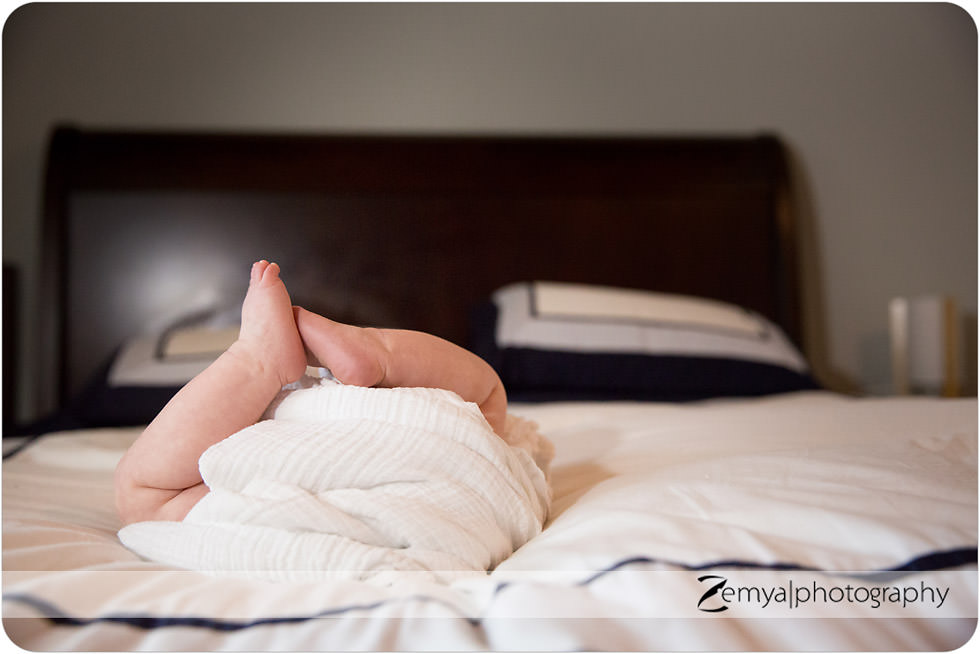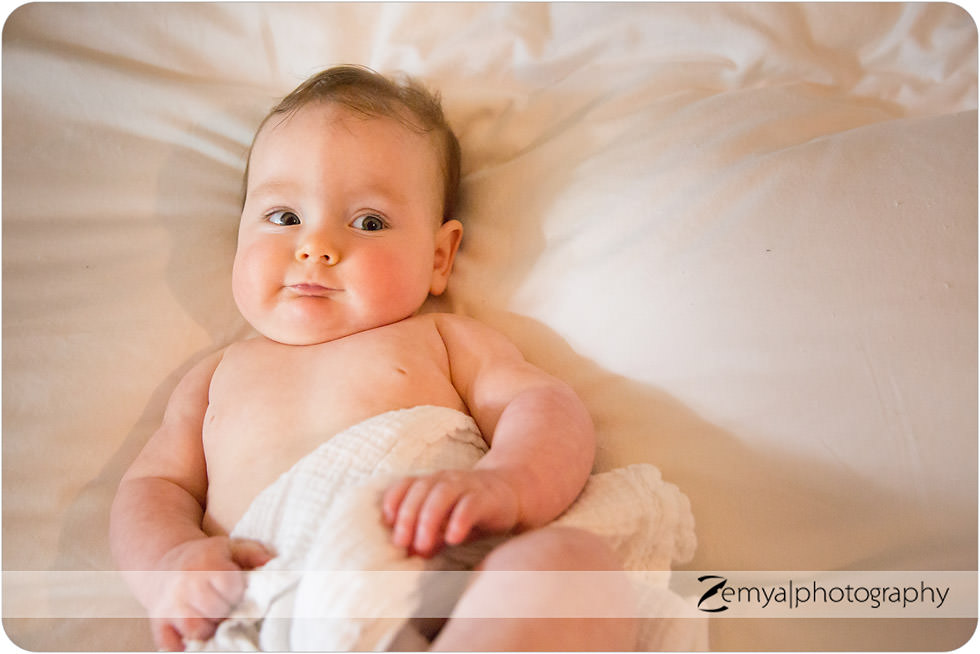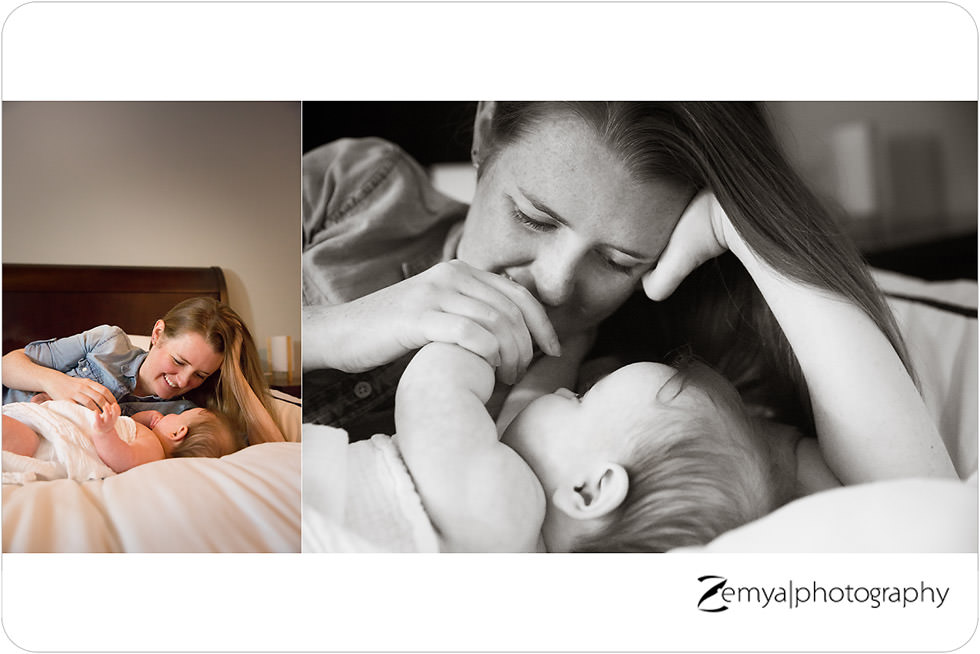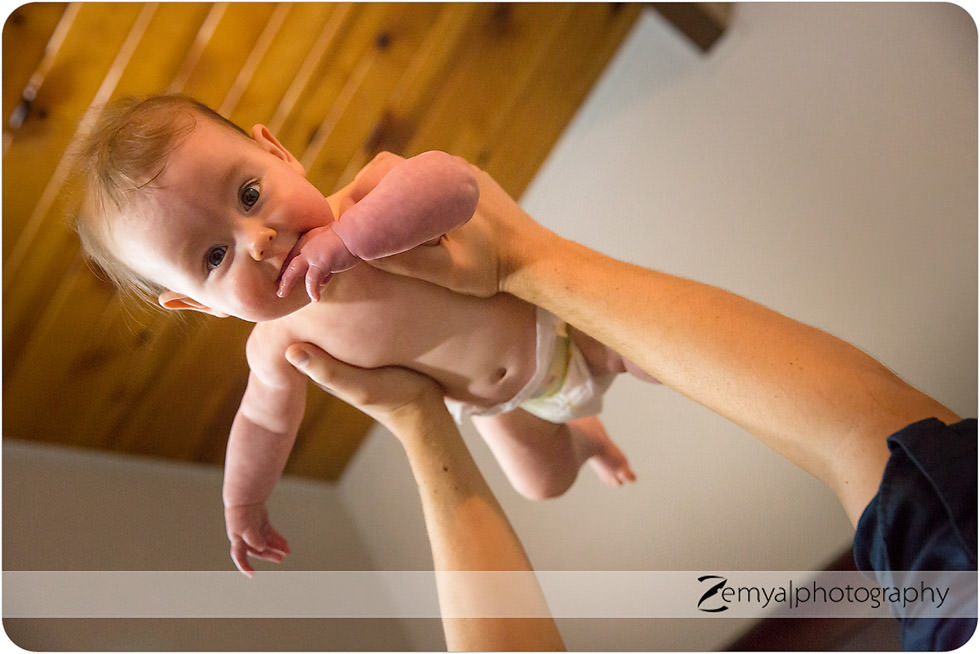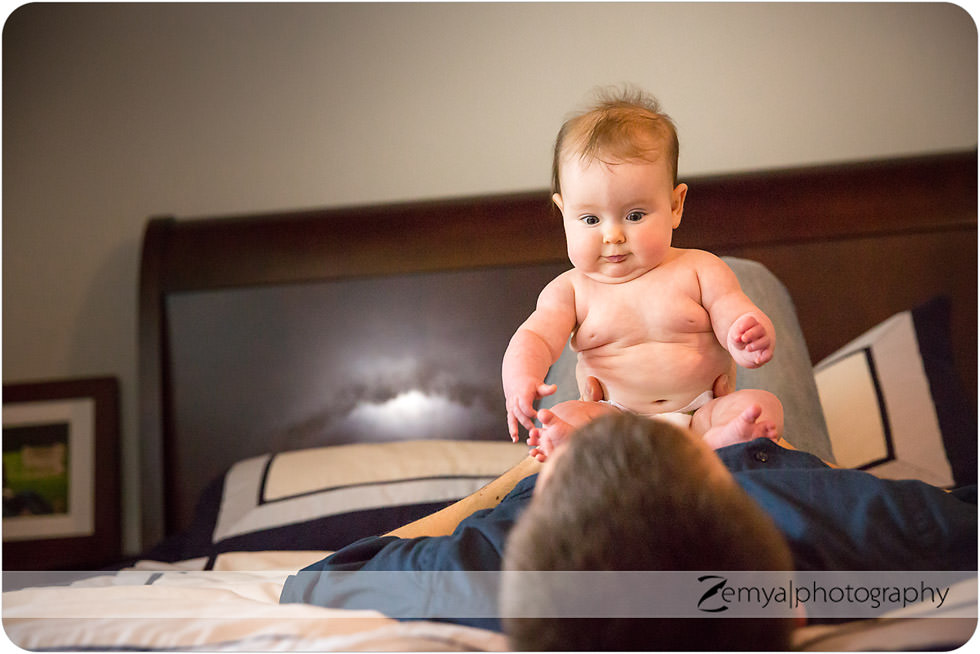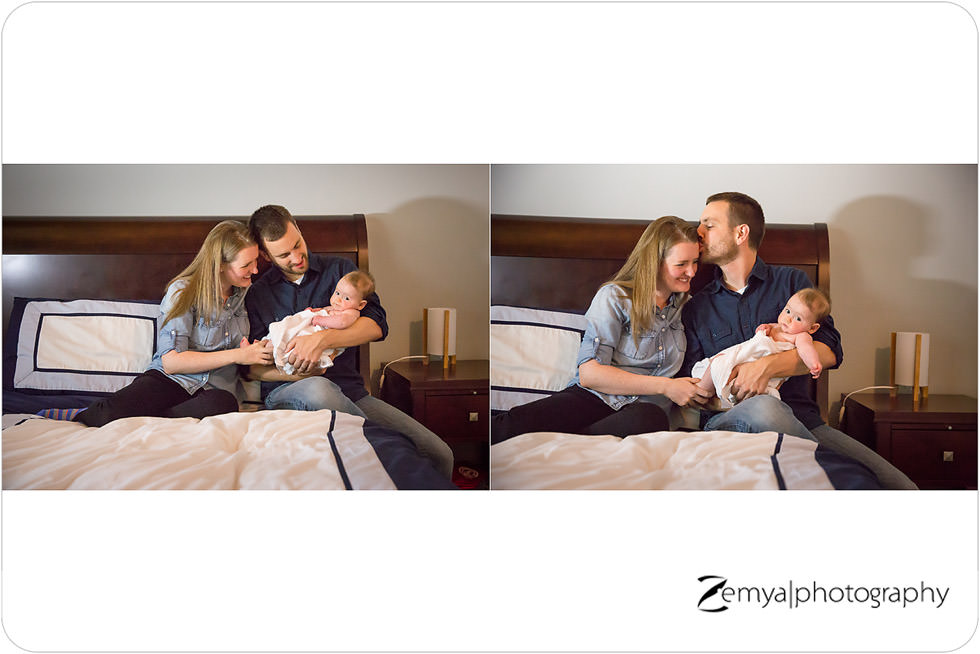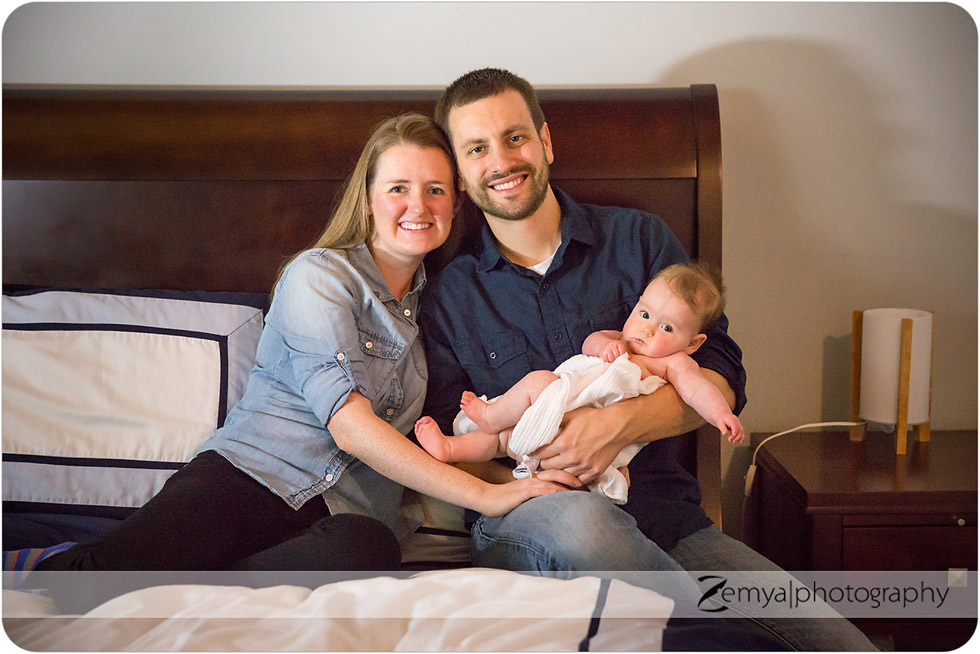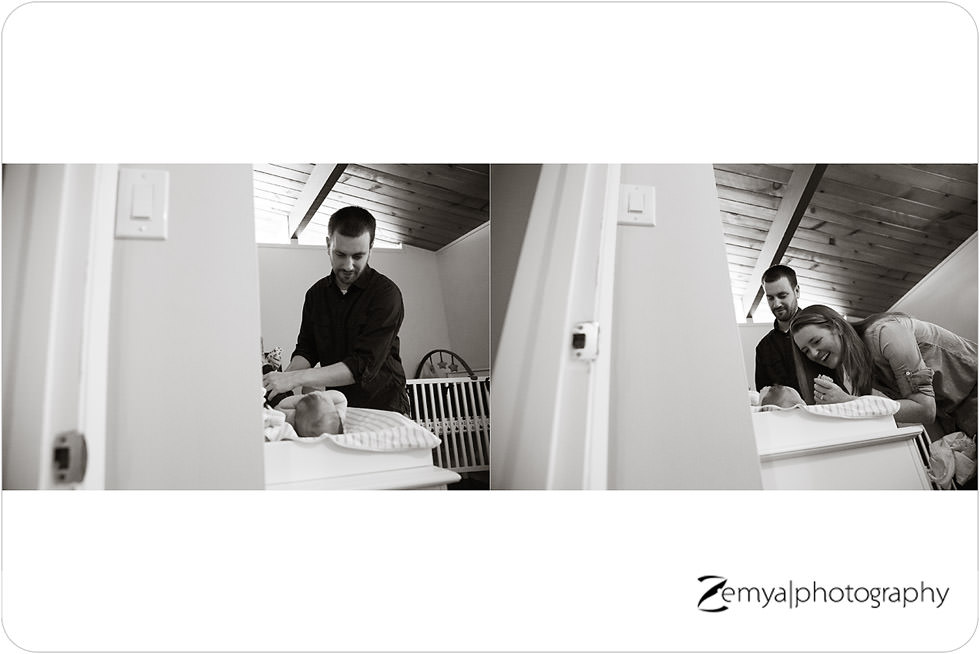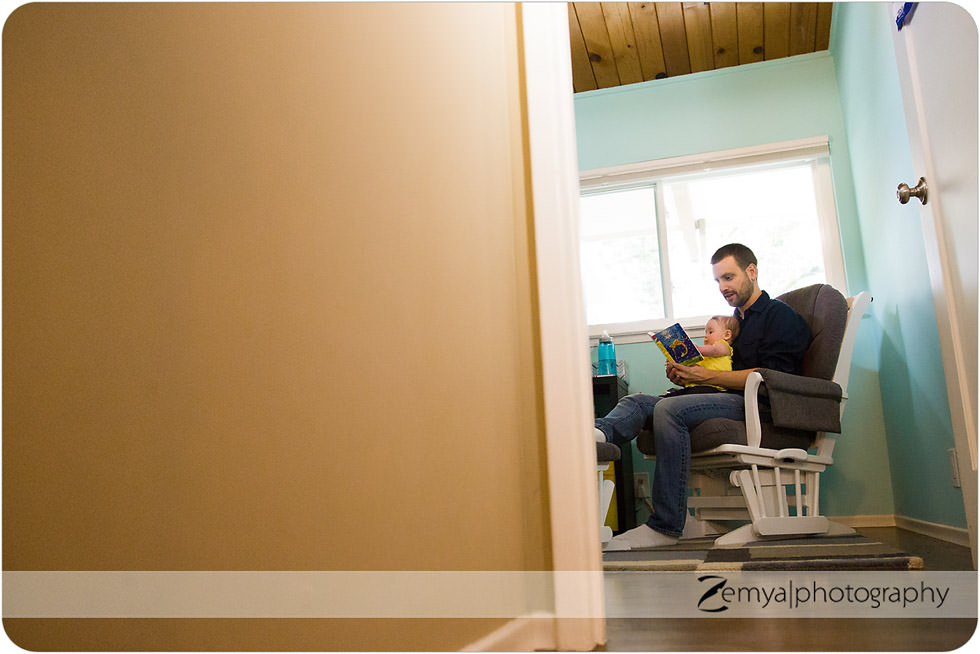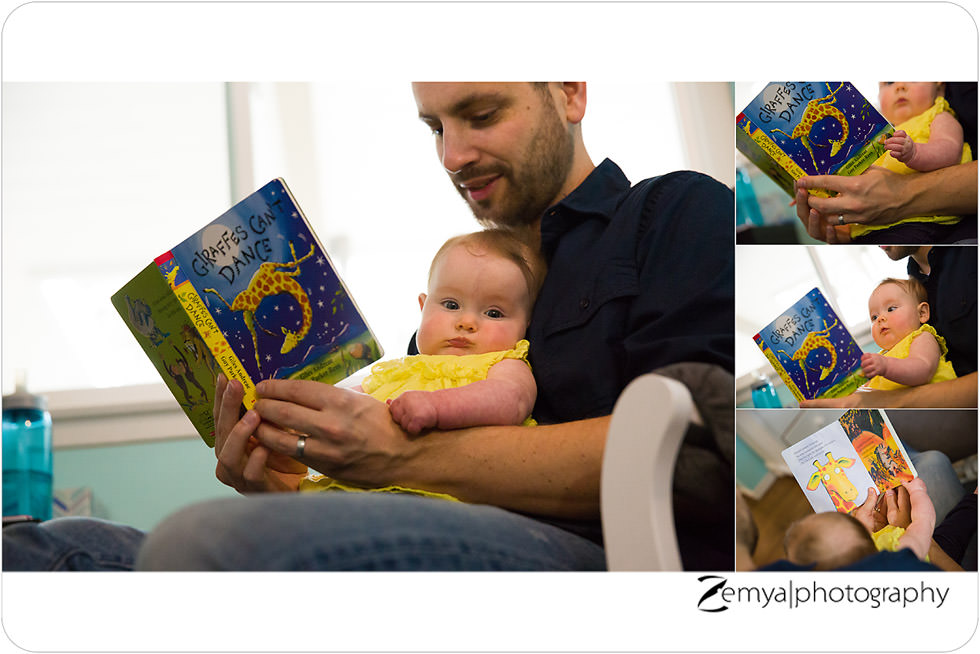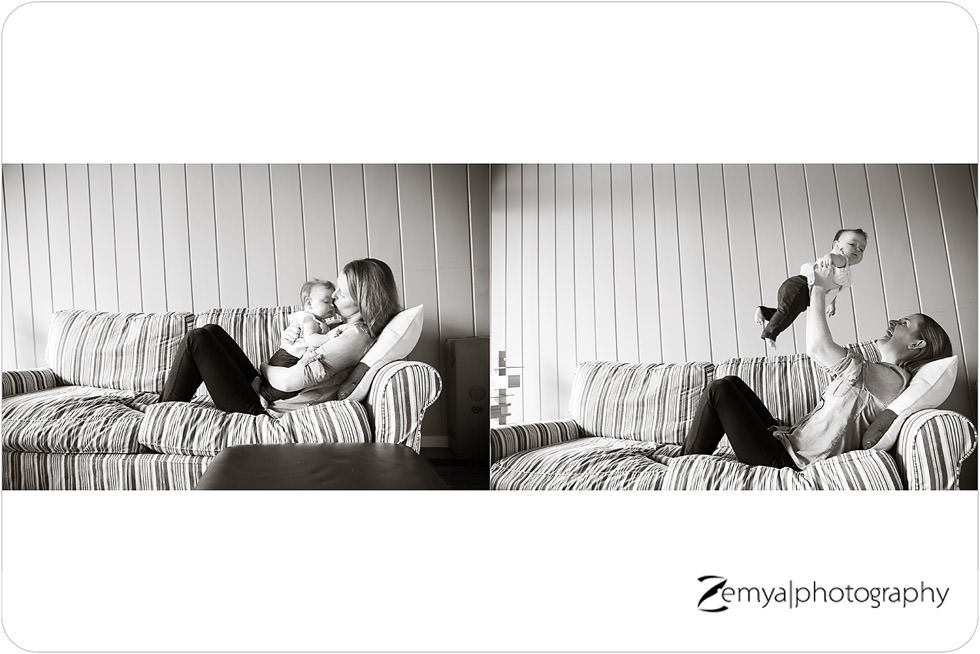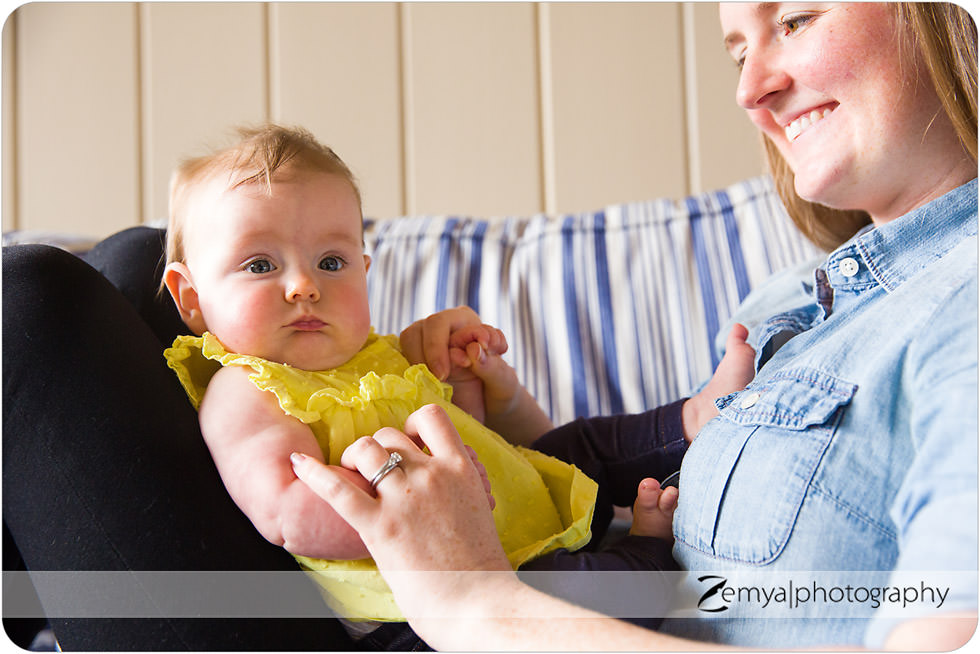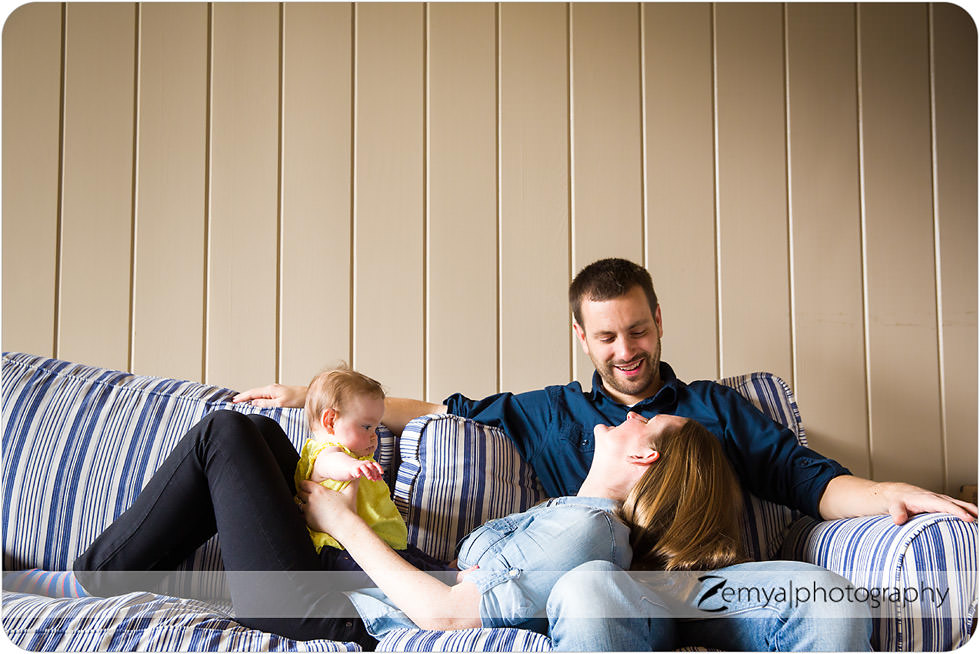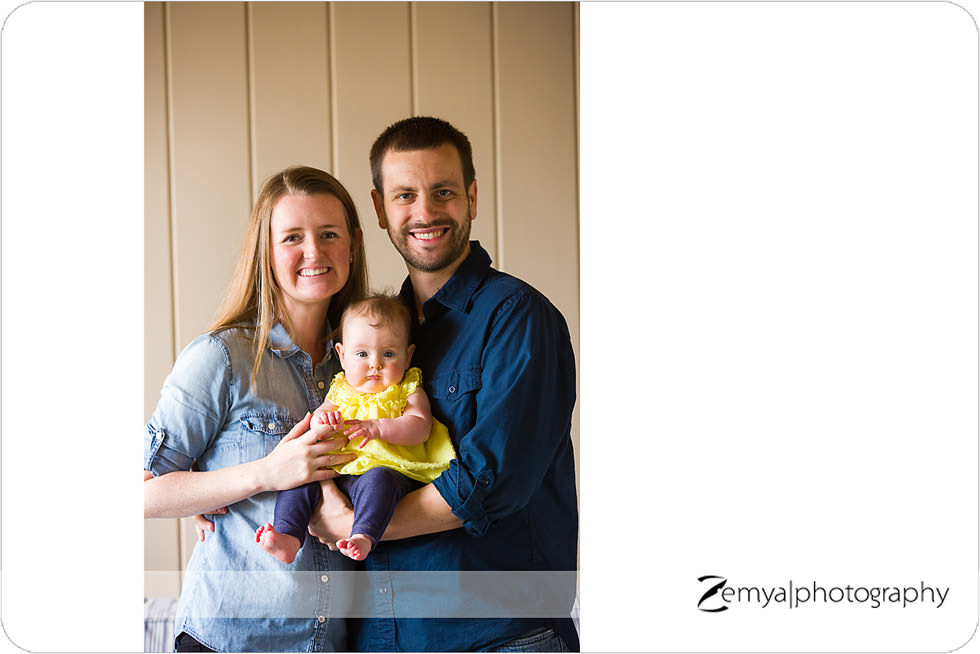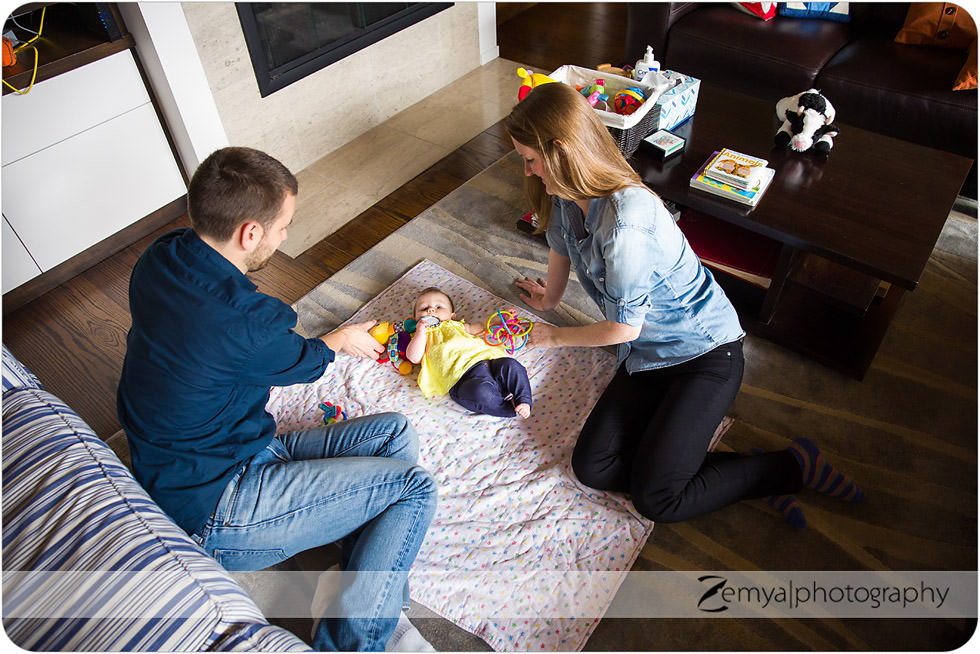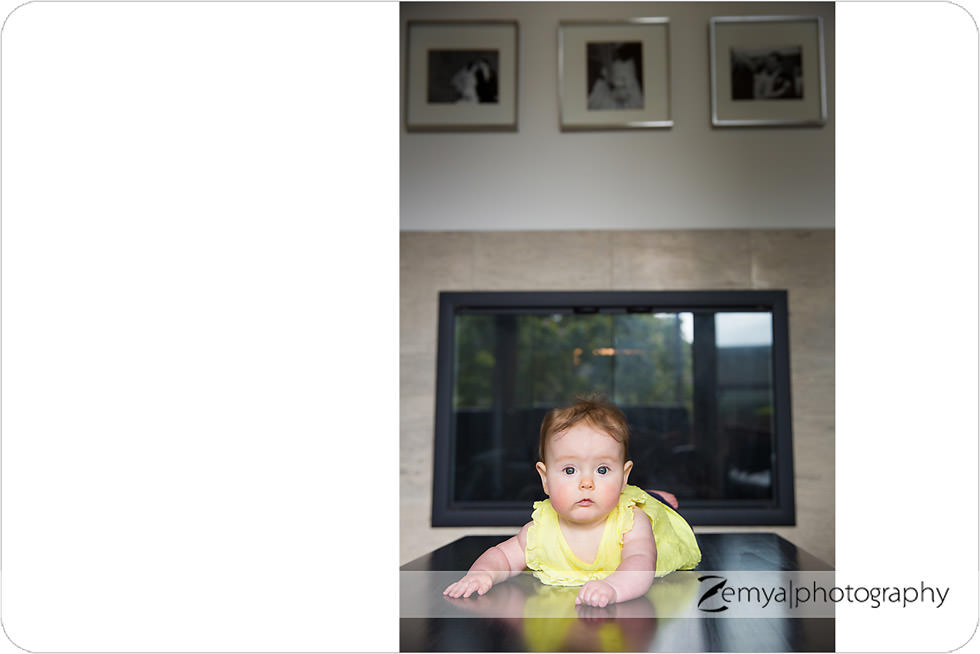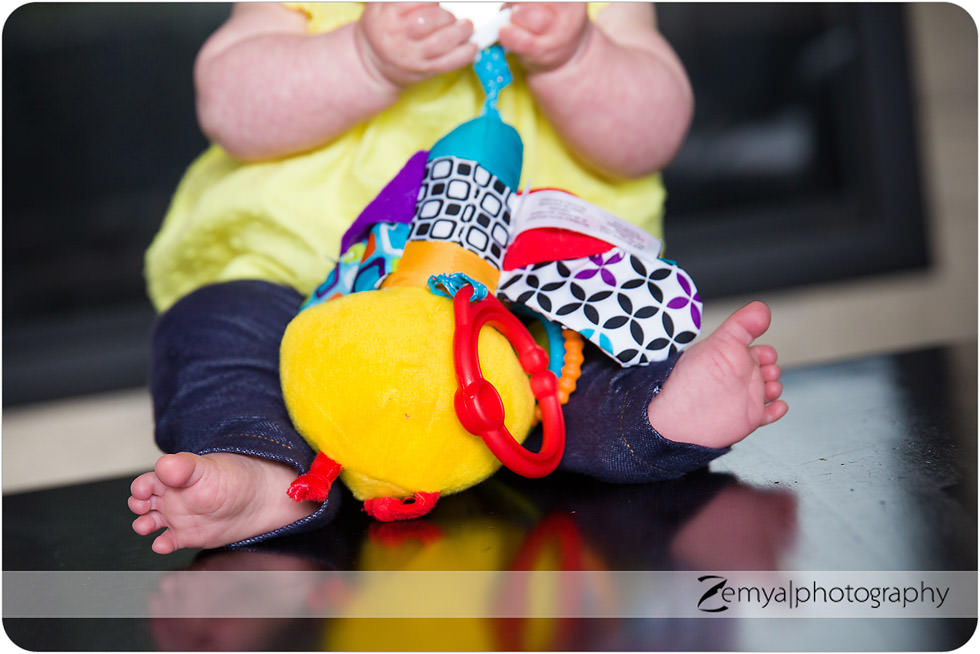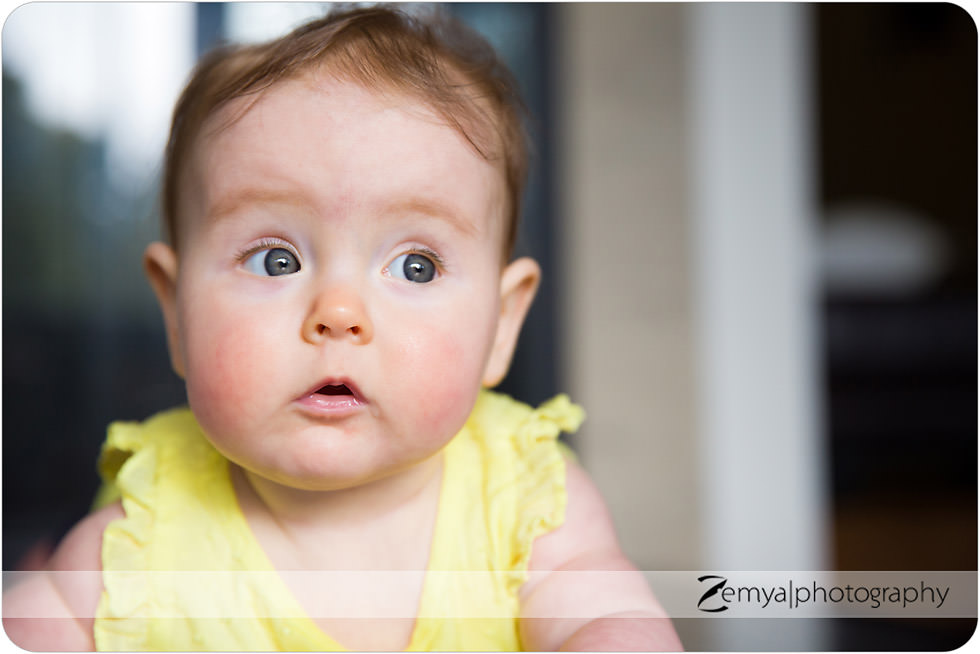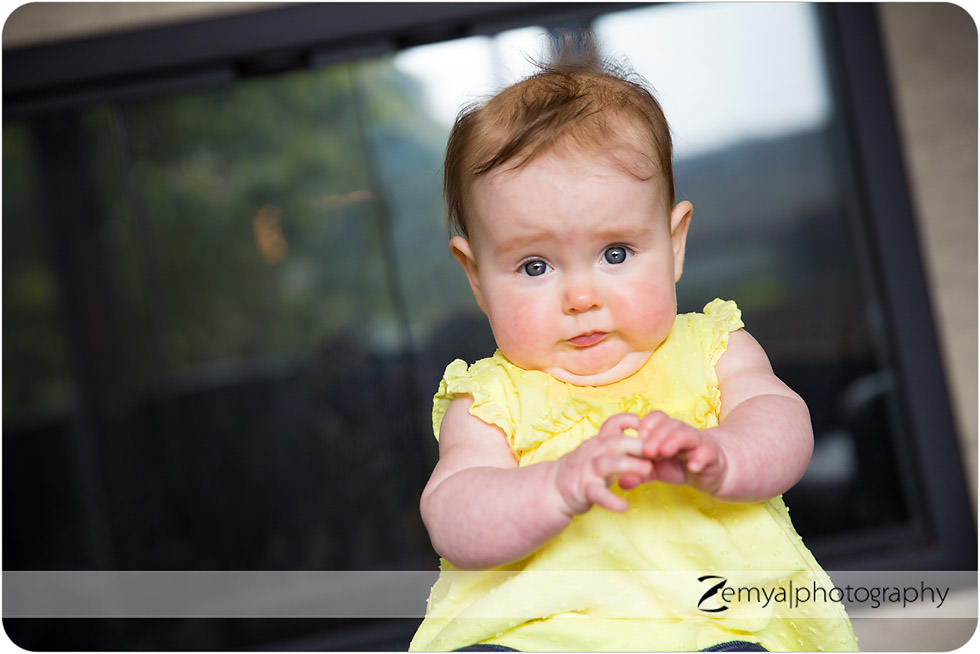 About Zemya Photography
Zemya Photography is a professional Bay Area photographer, based on the Peninsula, and specializes in couples, maternity, family, newborn, baby, and children's on-location, natural light, lifestyle portrait photography. Book your session today