Let me share you a little story, and tell me if this sounds familiar: you take a fantastic photo. Perhaps one of you lovable 3-foot tall bi-ped monster… or an amazing shot of the sunset with that lovely lighthouse in the background. You upload it to your favorite photo service and send it to print to share with your mom. 8×10 — 'cuz that's what she asked for. And then it arrives… and you realize your head is half chopped off and your image, just isn't as fantastic as you took it anymore. What happened????
It all comes down to something very simple: aspect ratio. You remember ratios from elementary school? We're taking about the width of your image compared to the height of your image right when it comes out of your camera. In order for you to see every pixel of your photograph when you print it, you should choose a size that best matches the aspect ratio of your camera. If you don't, you could be loosing out. Literally. Up to almost a quarter of your image.
Your digital camera likely takes pictures in one of two aspect ratios: 2×3 or 4×3. My camera? It's a 2×3'er. What's yours? If you don't know this, you can look up your manual… or if that's sitting in your garage with the box the camera came in, you can do some of your own math… or look it up online ;p
Ok, so while this is all nice, what does it all mean? Lemme show you.
Take a look at these images. The left column of images illustrates how various print sizes affect a 2:3 aspect ratio image. The column on the right is a 4:3 aspect ratio image. What do you see?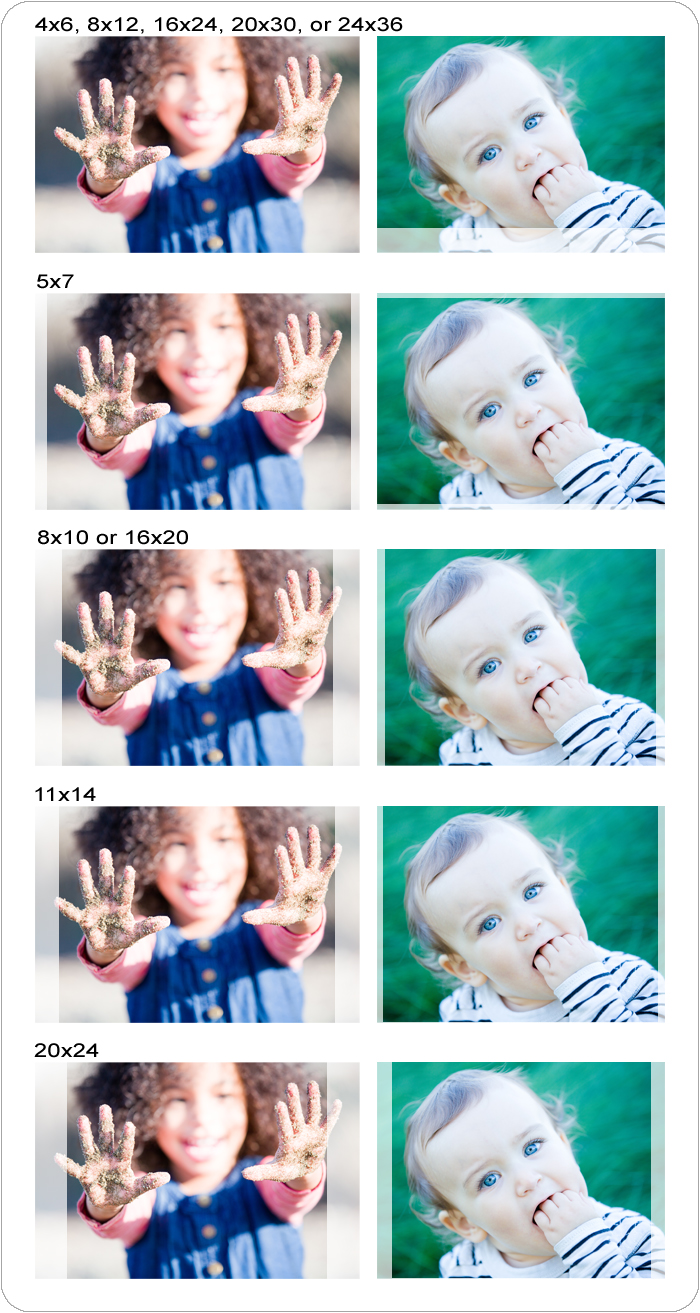 Let's talk about 2:3 aspect ratio images first. Print sizes of 4×6, 8×12, 20×30 and 24×36 leave them completely un-altered. Love!!!
A 5×7 on the other hand starts chop-city. We loose about 0.5″ of our image.
8×10 is where things get interesting. Check out little S' hands — she is now missing the tips of her pinkies. Ouch! We lost a whole 2″ of our image, and it just doesn't look the same. It honestly wasn't the image I envisioned when I took it. But you really wanted that enlargement, you say… ok how about upgrading to a 8×12 print. You'll be surprised how many places will offer this option. Yes, you will need a new frame, but doesn't the rest of your image deserve it?
11×14 and 20×24 sizes are a similar story. You loose 2.5″ off the sides on an 11×14 print. On a 20×24 print, you loose a whole 6″!!! That makes S really, really, sad: she is no longer missing just the tips of her fingers — she just lost a whole pinkie.
Well, what about 4:3 aspect ratio cameras? Good news? In larger print sizes, you don't loose as much out of your image. On an 8×10 you loose a little over 0.5″. However, the small print sizes, like a 4×6 the loss is certainly more notable.
So where does this leave you? Ideally, especially if you are printing images from a 2:3 aspect ratio camera, stick to 2:3 aspect ratio print sizes (4×6, 8×12, 20×30 and 24×36).
But is this your only option? Certainly not. You could make it a point to take all of your images from a little farther away, or zoomed out to accommodate for the crop. To me, I'd hate this loss of creativity, so in good faith I can't tell you this is what you should be doing: I want you to experience the same image across multiple media and print sizes.
A second and more reasonable choice would be to use a matte: working either with a framing store to create a physical one, or create a digital one. Yes, you will have the matte showing in your printed image in the sizes that don't maintain the same aspect ratio, but hey… you'll see your whole image 🙂 And you can make a digital matte look pretty nice too.
Hope this has been some good food for thought, and my examples above have helped you out.
About Zemya Photography
Zemya Photography is a professional Bay Area photographer, based on the Peninsula, and specializes in couples, maternity, family, newborn, baby, and children's on-location, natural light, lifestyle portrait photography. Book your session today