It's been almost two years since the last time I did a print lab comparison, and given the interest my last post on this topic is still receiving, I thought it's only fair to revisit my findings.
My objective today is to focus on consumer-based printing service providers. For your professionally taken images, going through your photographer's labs really makes a difference. You won't regret the money spent for what you'll receive in regards quality, color and longevity. Still for those images you've taken yourself, or your friend took of you? Where should you go?
In this print test round, I used 5 labs: Costco (Foster City), Target (Foster City) and Walgreens (El Camino & Ralston in Belmont), Mpix and Shutterfly. A mix between local, large-chain retailers, and on-line printing service providers. All the familiar names you saw me check out last time.
I also wanted to test out how images taken under various light conditions with different quality will print out with these labs. So I chose three images:
– a really grainy image taken with my super fancy camera, under bad lighting conditions.
– one with my phone, 'cuz let's get real: what percentage of your photos are you taking with your mobile phone these days?
– the last taken, again, with my fancy DSLR camera, under not-so-ideal lighting conditions, but not grainy
I printed each in 4×6 and 8×10 size to see if the quality varied between sizes and how the graininess came out.
Now before we go on, I'll add my standard disclaimers:
1) with the exception of the "original" image marked below, all others are picture of a picture. They will appear blurrier, and not the exact same color as the original. Please trust me when I describe the final color appearance, ok? I held up each image up to my screen to compare final color to intended original.
2) I did not calibrate my screen to the printer of each service provider for editing purposes. Mostly, because most people wouldn't.
3) I am not paid by any of these establishments.
Let's start with that first image I mentioned.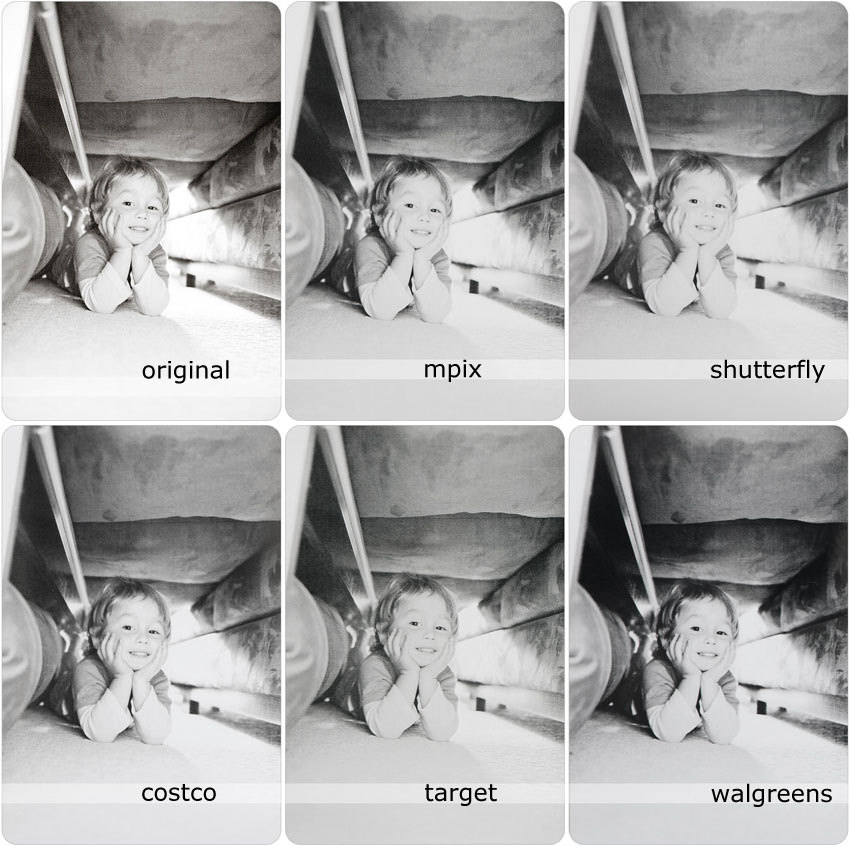 Now, when I said this was under bad lighting, I mean bad lighting. My big little dude asked me to build him a fortress out of our couch cushions and coffee table. It was just plain dark under there, but he was a happy clam. I turned my camera's light sensitivity on to the highest level it would go (ISO 6400 for you photo-geeks) and still had to brighten it up in post-processing, which only made an already grainy image, even grainier. It's seriously like a Monet up in there: enjoy it from afar and just don't get too close.
In the prints that came back, in terms of exposure and color fidelity in both the 4×6 and 8×10 sizes, I was most impressed by Mpix and Shutterfly. They felt most honest. They didn't print either too dark, or too bright. My black and white conversions are actually never 100% gray scale — I always add just a slight tinge of brown. Mpix maintained that, while Shutterfly was very neutral. Mpix felt truest and won between the two. Costco under-exposed my image. Target on the other-hand overly exposed it and added a yellowish hue. Walgreens, was way too dark and lost a lot of detail in the image.
In terms of grain, in the 4×6 size the noise was barely noticeable, but in the 8×10? Woa! Every printing place came in noisy. If I had to pick a winner in that mess Shutterfly actually performed best.
Image number two was taken at sunset with the default camera app of my iPhone 4. About as generic as you can get, although I did boost the contrast up a wee bit afterward (yes, I do edit some of my iPhone pics: don't judge ;p)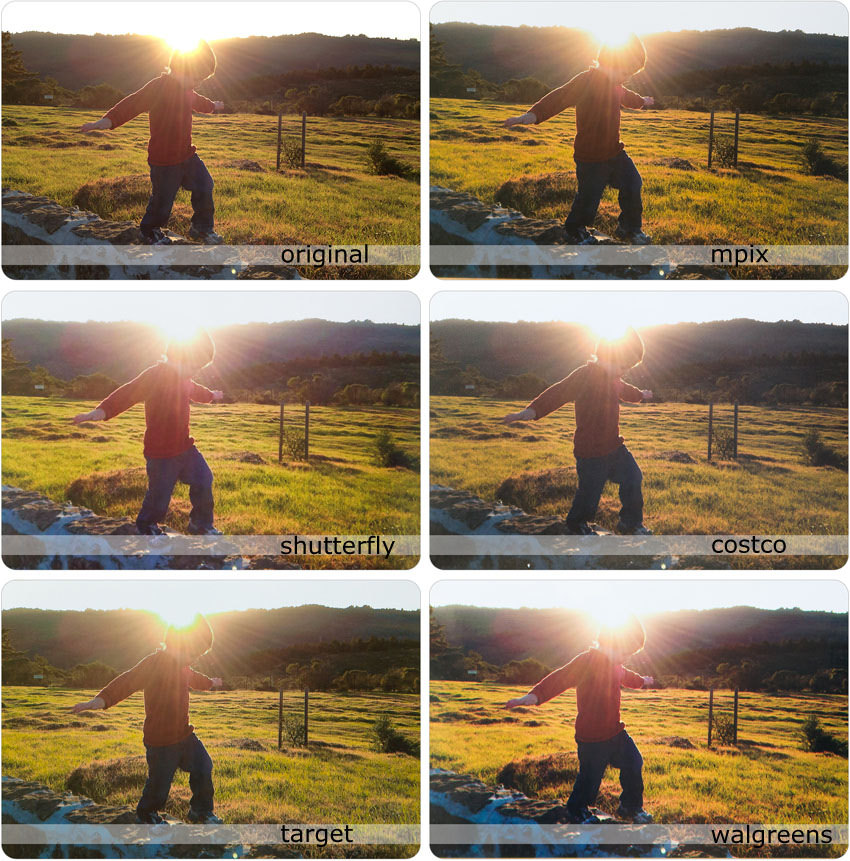 I picked this to test because I'm noticing more and more of my friends take their pictures with their phones. It's honestly about as limiting of a camera as you can get, but it gets decent pictures, and certainly ones I would consider having printed
Mpix again performed best in terms of color and exposure. Actually, spot on! Shutterfly came in brighter on the exposure, and a bit greener. Target was also too bright, and too green. Walgreens was way too dark, although surprisingly Costco came in darkest, and their colors were way off.
From a noise perspective, the original image has a little bit of grain and it's noticeable around the tips of the grass and the shirt and pants if you look close. These are not the focus of the image, and I feel that with the back-lighting I can kind of get away with it. In the prints even the 8x10s were just fine. You could see some noise I just mentioned if you looked hard enough, but it wasn't a big deal in any print.
Last is Little J. (This is where the picture of a picture is pretty darn obvious.)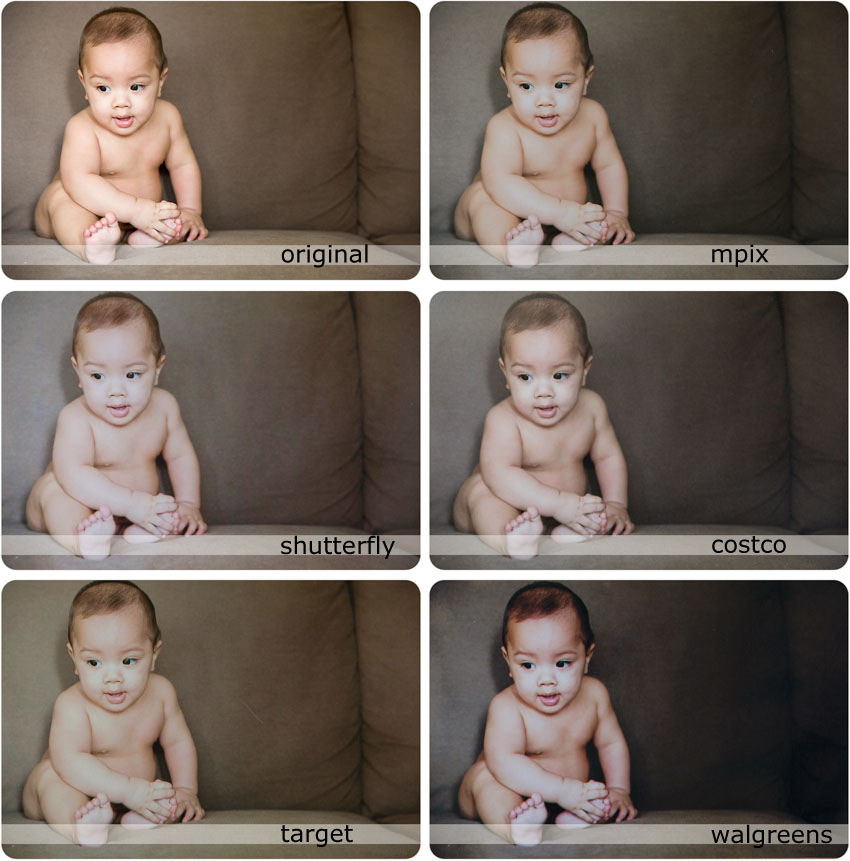 The last image was taken in a room that surprised me with how much I had to increase my light sensitivity. I ended up with ISO 5000 here and shutter speed of 1/160s. It exposed exactly as I wanted it and I barely had to touch it in post processing. The grain was minimal and this little man has beautiful skintone. Mpix did so great with this image. Exposure just right. Color just right. Shutterfly also did very well. A little bright, but pretty good. Target, again, too bright, and green. In this composite I know it looks closest the original, but when you pair them side to side, it's just bad. Costco's print made J's face look dingy. It was dark and flat. Walgreens? Again, too dark and colors were off (at least they're consistent).
Paper quality wise, Target and Walgreens still only allowed me to print glossy. C'mon — over a year later, and still I can get is glossy?!? I know right there it's technically not a fair comparison, but they didn't really give me a choice. I'm still not a fan of glossy paper: I don't like how it feels when I hold it and how light reflects off of it. Maybe I'm getting old, but I feel my eyes have to work harder to really see an image on glossy paper.
Here was my cost experience. There were no promotions when I placed my orders.
Mpix: 4×6 = $0.29 | 8×10 = $1.99
Shutterfly: 4×6 = $0.15 | 8×10 = $3.99
Costco: 4×6 = $0.13 | 8×10 = $1.49
Target: 4×6 = $0.19 | 8×10 = $2.89
Walgreens: 4×6 = $0.19 | 8×10 = $3.99
Ultimately what this experience has told me is that I'm a bigger fan of the online retailers, and I'll take the wait for better quality photos over the instant gratification of my local chains. I'm a bit saddened by Costco's performance, because they really did do pretty well last time. Maybe it's the printer needing new toner & maintenance? I don't know, but for the volume of orders they get, I expected more. I am very pleasantly surprised to see Shutterfly come up in quality. I will be trying them more. But Mpix wins my business. Our grandparents ask for a lot of 8×10's, and Mpix even after shipping came out cheaper than Walgreens for the same size order.
About Zemya Photography
Zemya Photography is a professional Bay Area photographer, based on the Peninsula, and specializes in couples, maternity, family, newborn, baby, and children's on-location, natural light, lifestyle portrait photography. Book your session today