Over the past few years I've been doing a lot of reading and research on
SEO (search engine optimization)
. As a professional photographer and service provider, I welcome new clients. The families I have worked with, thus far, have come to me through referrals, through Yelp, and some come because they find me online. Being found in online searches is simply a necessity for businesses. However, as I and many other discovered it is not as easy as creating a website and setting it free in the world. So I've been reading, and experimenting.
For awhile now I've also been part of a number of photographer groups. While we provide the same service, I've found the photographer community to be far more collaborative than competitive. We lift each other up through shared knowledge and help. I've seen requests ranging from "hey how do I respond to a client in this situation", to "Please critique this image", to "My second shooter fell ill, I have a wedding this week-end and need help".
It's incredible! It was with that collaborative spirit, that I sat down last summer to write a blog post on how photographers can improve their SEO. "SEO for photographers", I thought.
I sat down and started writing. And writing. And writing. I realized: hey this was going to have to be a multi-part blog series. There were just so many seo tips for photographers to share. So much people need to know about and do. And then I realized…. this needed to go beyond a series of blog posts. It needed to become a book! I approached ClickinMoms to see if there would be an interest in this content, along with a few photographer friends for their thoughts.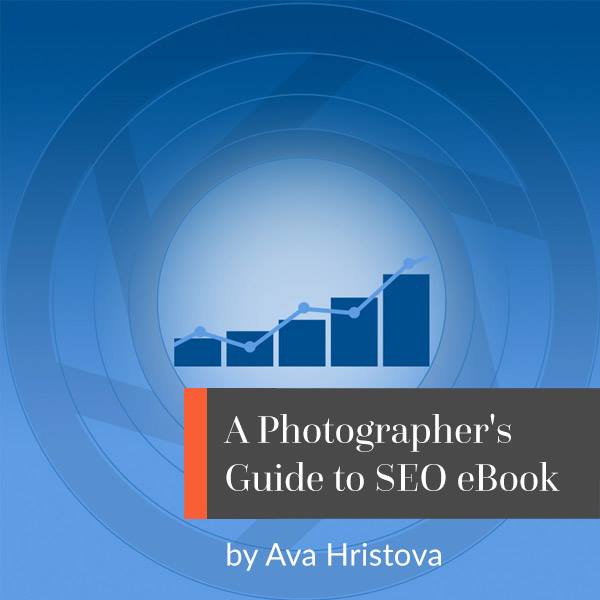 Now, six months later I am super, SUPER excited to announce that my book, "A Photographer's Guide To SEO: Get More Client Exposure Through Better Search Result Positioning", is launched. It is live, exclusively at the ClickinMoms store. Go check it out!
What you'll receive is an electronic book, which will download in PDF format. It's super convenient to put it on your phone, pad, read on your computer or print out if you wish — any format that works best for you; wherever you are.
I worked really hard to make this book work for individuals that are just getting started with SEO, as well as those that have been working to optimize their site for years. It's over 80 pages, includes some great examples, and if you're a WordPress user, guidance on where to make changes on your website. I also include a list of really handy (and free!) applications to help you in your SEO efforts. There's a little in here for everyone. I am speaking to photographers, but anyone wanting to improve their website's SEO will find this book valuable.
Don't worry! While it's kind of a technical topic, I've worked really hard to make it easily consumable by anyone.
Here's a sampling of the topics it covers:
– how to choose the right keywords for YOU that will get you the most traffic
– how to setup your website so that it's properly optimized for SEO
– writing tips
– how to get the best backlinks for your website
– things that will hurt your SEO, or waste your time
– lots more
Wanna get a sneak peak inside? Here goes. This is from my the section on how to begin compiling keywords.
---
HOW TO IDENTIFY KEYWORDS
Before I dive into the nitty gritty of "how to make your website better", we need to take a step back and consider the context through which potential clients will find you. Looking for your business name is not enough! This is perfect for clients that already know about you, but these aren't the people you are doing all this work for. It's important to have a list of keywords that people are likely to use (when looking for a photographer), so that you can work off of that list as you're building out your site.
So, what does that list look like?
You might want to start with your region. For example, I work out of Belmont, California, which is located in the San Francisco Bay Area. Some keywords for me could be "Bay Area photographer." That keyword phrase is pretty broad, however, and I want to get more granular. People that live here refer to the specific locale I'm in as "the Peninsula", so I also target "Peninsula photographer".
I consider cities as well. In the 20 mile area I prefer to work in, there are at least 10 separate cities. So those go on the list:
Belmont photographer
Foster City photographer
San Mateo photographer
Etc.
Next up, start layering in your specialization:
Bay Area family photographer
Bay Area newborn photographer
Keep going! Brainstorm all you can think of right now. Don't limit yourself yet — we'll talk about how to narrow our focus in a bit. For now, just create that list.
Let Google do your homework
If you're a little stuck, there's a second approach you can take to coming up with keywords. You will need some basic phrases to get going — let's say "child photographer".
Go to google.com and on that basic search page, begin typing.

As you type, Google will begin recommending some ideas, too. These recommendations come from Google's most often searched keywords, so you can begin to see what people are looking for.
Survey your target customer
As with many other things, to be successful, you have to get into your client's head and think like them. I see photographers copy other photographers' business strategy and approach all the time. This isn't necessarily the wrong thing to do, but how do you know that the person you drew your inspiration from had it right to begin with? Moreover, what works for a wedding photographer might not for a photographer specializing in landscapes. So… please consider your audience. Get to know them, how they think, what they're looking for and most certainly "how" they look for it.
One way to do that? Create a survey! It can be as simple as sending out an email to target customers, talking to people face to face, asking on Facebook, or setting up a survey using a more formal tool (like surveymonkey or polldaddy). What do you ask? You have one primary question:
"If you were searching online for a photographer to (describe your field of specialty here), what would you type into the search box?"
Now step away and listen to (or read) the responses.
I've done this twice over the past four years, and the results were fascinating. I got some great search ideas this way — for example, I saw that my clients were not just typing in their city name, but using their zip code instead. "94002 photographer" just went onto my list.
Also, how they referred to my genre of photography was different than how I did. I was thinking "newborn", they said "baby". I had "maternity", they said "pregnancy". I wrote "children", they said "kid" and even "toddler". Same intent, right? But such a broad set of additional keywords to consider. I was so influenced by our industry's references that I wasn't thinking through all the possibilities. Surveying my target audience pulled me out of that mentality and gave me additional perspective.
There were some other keywords that popped out in these surveys:
"family photographer natural setting"
"Family, kids, candid, outdoor"
"Natural, easy-going, creative photographer"
Again, interesting to see what people are looking for. Does this give you ideas, too?
Please note I've been careful to say "target customer". This matters because you want these types of people to hire you. Unless your friends happen to be in your target market, don't just ask them (although ask for their help if they're connected to the customer you want). If your current clients are not in your target audience, don't ask them either.
---
Are you enthralled? Want more? Go and get your own copy : ). Also be sure to follow me on Facebook because I'll post discount codes to it from time to time, as things go on sale.
I need to take a moment and say a HUGE "Thank you!" to my husband and kids. While I wrote this book they gave me the time, patience and quiet I needed to work. I worked on this during the fall, which as most family portrait photographers know is the busiest time of year already with clients. Most of the "free" time I had when I wasn't meeting with clients or editing sessions was spent on this project. My husband is an incredibly supportive guy, and his final review after he read it made my day. Thank you guys!
Also to my incredible friend, Alison Sonderegger for being my copy editor (and not laughing too much at my grammar mistakes).
Last, but not least, the incredible staff at ClickinMoms (especially Monica Wilkinson) for the arduous process of getting it set-up, review, and what felt like endless emails while we got this live. Thank you everyone!
To all of you reading this book, come back and tell me what you thought!
About Zemya Photography
Zemya Photography is a professional Bay Area photographer, based on the Peninsula, and specializes in couples, maternity, family, newborn, baby, and children's on-location, natural light, lifestyle portrait photography. Book your session today